TOKYO, Nov 2, 2023 – (JCN Newswire via SeaPRwire.com) – Hitachi, Ltd. (TSE:6501) has signed an agreement today to transfer all shares of its wholly owned subsidiary, Hitachi Power Semiconductor Device, to MinebeaMitsumi Inc. for further growth and corporate value enhancement ofHitachi Power Semiconductor Device.
Reason for the Share Transfer
Hitachi Power Semiconductor Device was established in October 2013 for the purpose of structuring an integrated system from design and manufacturing to sales in power semiconductor business by integrating the business of Hitachi and Hitachi Haramachi Electronics Co. Since then, Hitachi Power Semiconductor Device has been providing high value-added products utilizing high-voltage and low-loss technologies in the field of power semiconductors, which are key devices in the electrification and motorization of industry and social infrastructure, with "IGBT(1)/SiC(2)", "High Voltage IC" and " Diodes" as its three main product categories. Hitachi Power Semiconductor Device is focusingon IGBT/SiC products in the market areas where high growth is expected toward the realization of a decarbonized society, such as electric vehicles and inverters for wind power generators, in addition to railroad applications, utilizing the strength of the high durability and reliability cultivated in railroad applications. Many customers in Japan and overseashave adopted IGBT/SiC made by Hitachi Power Semiconductor Device. In the area of high-voltage ICs for industrial andhome appliance applications, Hitachi Power Semiconductor Device is contributing to efficiency improvement and noise reduction in customers' systems through motor control technology and software based on the knowledge it has gained from providing products for a wide range of fields. Furthermore, Hitachi Power Semiconductor Device provides diodes for automotive applications, which require high reliability, for a long period of time.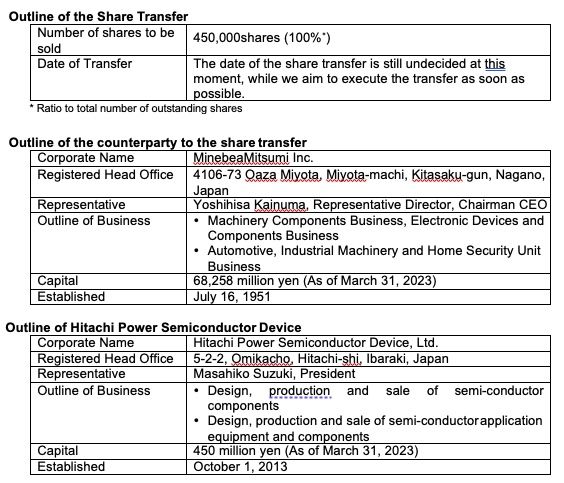 Hitachi and Hitachi Power Semiconductor Device have held many discussions on measures to achieve further growth and enhance the corporate value of Hitachi Power Semiconductor Device. As a result of the discussion, we have reached a conclusion that the best way for Hitachi Power Semiconductor Device to continue its growth in the powersemiconductor market, which is expected a high growth in the future, is to expand its production capacity and improve manufacturing efficiency under MinebeaMitsumi, which positions the analog semiconductor business as one of its corebusinesses.
Under MinebeaMitsumi, with whom Hitachi Power Devices has been collaborating for many years, Hitachi Power Semiconductor Device will further enhance its strengths in high-voltage, low-loss technologies, expand its productioncapacity and improve manufacturing efficiency to provide higher value-added products in larger quantities to markets and customers, thereby aiming for further growth and corporate value enhancement.
Hitachi will strive to further enhance its corporate value by leveraging the funds obtained from this share transfer for investment in growth of green and service business in the energy field.
(1) Insulated Gate Bipolar Transistor
(2) Silicon Carbide
About Hitachi, Ltd.
Hitachi drives Social Innovation Business, creating a sustainable society through the use of data and technology. We solve customers' and society's challenges with Lumada solutions leveraging IT, OT (Operational Technology) andproducts. Hitachi operates under the business structure of "Digital Systems & Services" – supporting our customers' digital transformation; "Green Energy & Mobility" – contributing to a decarbonized society through energy and railway systems, and "Connective Industries" – connecting products through digital technology to provide solutions in various industries. Driven by Digital, Green, and Innovation, we aim for growth through co-creation with our customers. The company's consolidated revenues for fiscal year 2022 (ended March 31, 2023) totaled 10,881.1 billion yen, with 696 consolidated subsidiaries and approximately 320,000 employees worldwide. For more information on Hitachi, please visit the company's website at https://www.hitachi.com.
Copyright 2023 JCN Newswire via SeaPRwire.com.